As mentioned in my previous installment, this is a continuation flight to ferry the remaining relief cargo which we picked up in Brussels on to the island of Palma De Mallorca (LEPA). At the time of the breakout of the Coronavirus, the resort island was packed with tourists and unfortunately not all were able to get off the island and begin their journey home. The supplies we're bringing in will help for now and more is planned in the coming days.
Flight Planning
Our flight this afternoon is pretty straightforward. The only difference between our arrival and our departure is weather. But we won't let become a distraction. We'll depart runway 30 and make a right hand turn, then head across Spain to Barcelona. Then proceed across the Balearic Sea to our destination. Our total flying time is a short 1 hour, 10 minutes at an altitude of 33,000.
Route: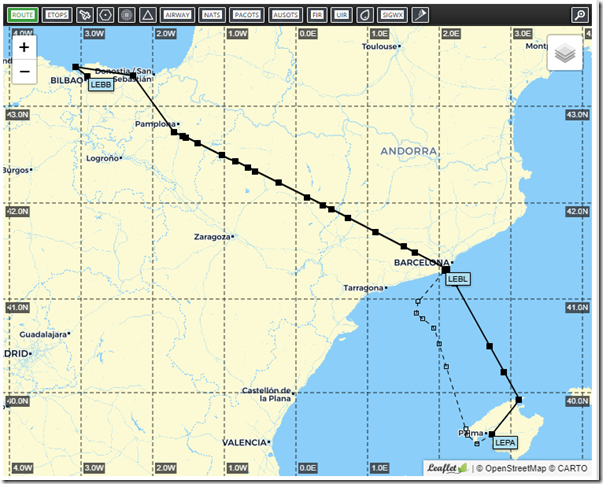 Let's Go
We've had a bit of weather move into Bilbao today. But it should not be a factor for us. The ground crew is getting a bit wet, but we're dry on the flight deck.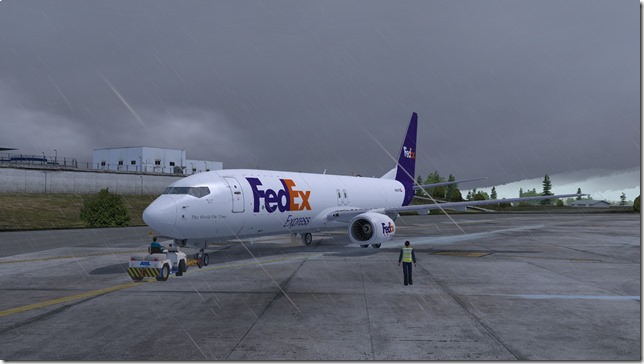 We've got some kind of weird greenish fog moving in as we move out. Perhaps not the best depiction of fog, but I can live with that.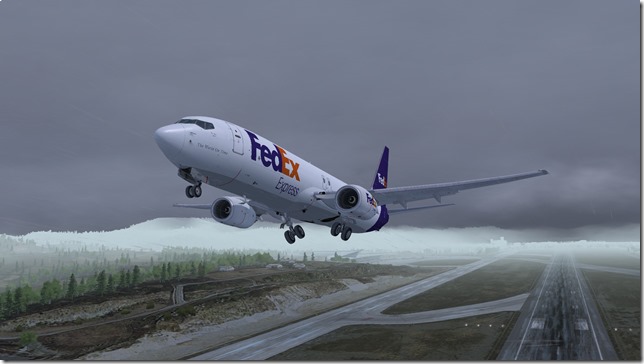 It's dumping out there.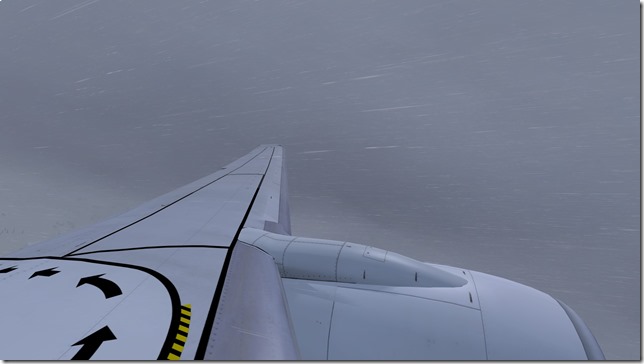 That's better!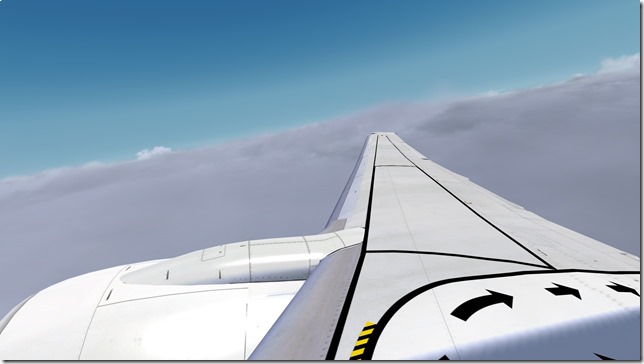 Making our turn to join the departure and above the clouds.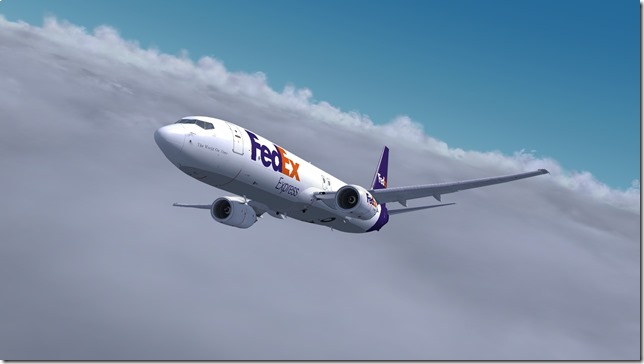 Smooth flying at cruise.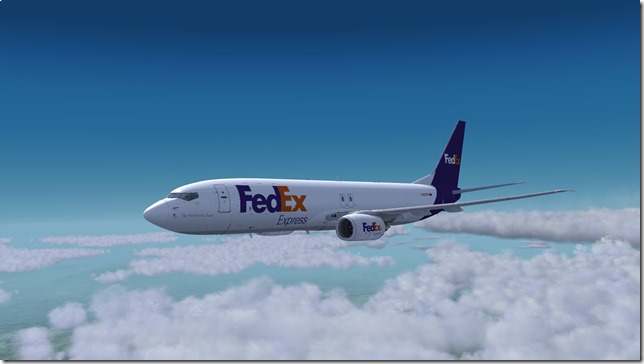 Beautiful skies as we descend into our destination.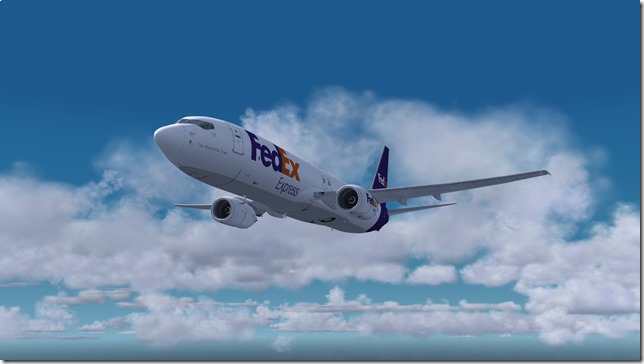 The island of Mallorca just ahead.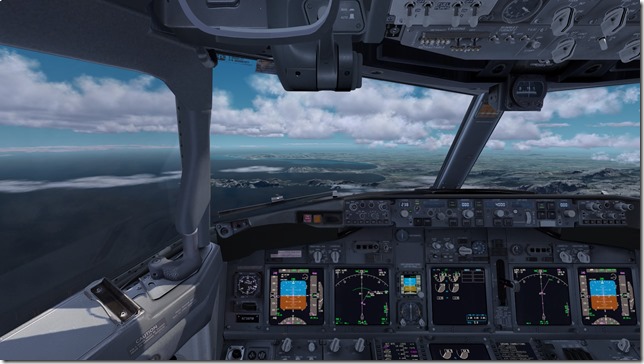 On final approach and fully configured.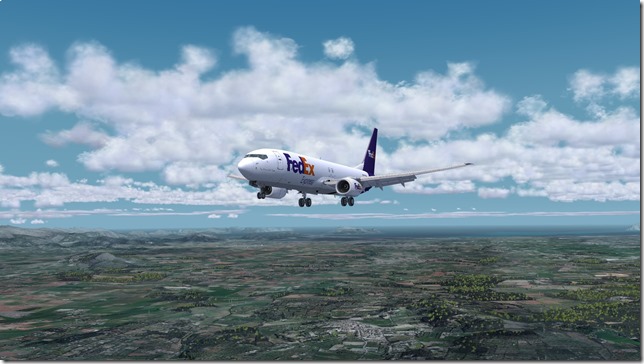 Runway insight. Landing in just a few minutes.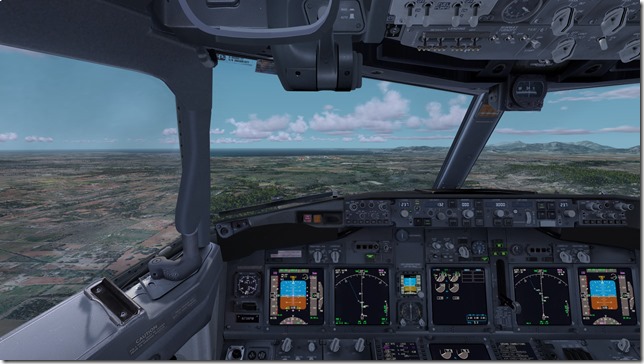 Touchdown? Almost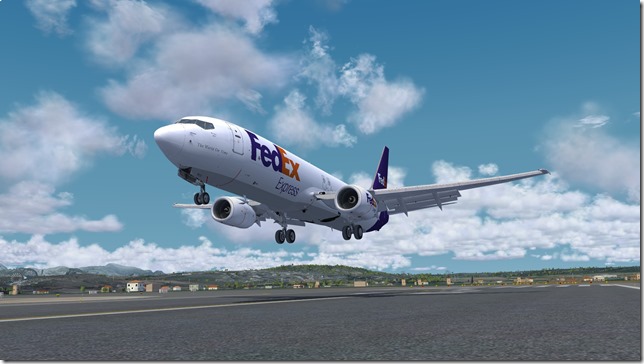 We've parked at the military section of the airport where our cargo will be unloaded. Once unloaded and refueled, we'll be on our way back to Belgium and the cargo airport of Liege. This flight will be covered in the next edition.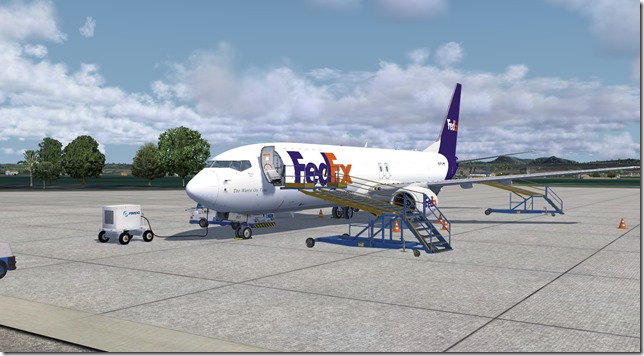 Once we arrive back in Belgium, we'll say good-bye to our little 738 freighter and stretch our legs a bit with some longer flights as we continue moving much needed cargo around the world.
Until next time. Please be safe, take care of your family and stay home.
Jerry
Credits
Flight Simulator: Prepar3D v4.5 (hotfix 1)
Aircraft: PMDG 737 NGX
Airline: Fedex (FDX)
ATC: VATSIM
Airport Scenery: LEBB (Bilbao) Orbx, LEPA (Palma De Mallorca) Aerosoft
Terrain Scenery: Orbx Global Base, Orbx Vector
Sky/Cloud Textures: REX 5 SkyForce and REX 5 Environment Force
Immersion Effects – Parallel 42 737 Immersion
Weather Generation: ActiveSky (ASP4)
Flight Planning: SimBrief, Navigraph, FlightAware, FlightRadar24
Note: If you are interested in any of the above mentioned add-ons. Visit my P3D Add-ons directory for links.