I hope you enjoyed the information I passed along during the update for leg 7.  Just as a point of reference, before beginning leg 8 we have 18 hours, and 20 minutes of flying time logged on this tour.  We've traveled 5,965 miles and burned just over 99,000 pounds of fuel since we left Sydney, Australia on 2 June.  Once again this flight will take us south of the equator.
You may also remember I told you that not all flights operated during the course of this WorldFlight 2018 tour will be 100% accurate.  From time to time I may take some artistic license and go fully fictional in what I choose to fly.  As you'll soon learn by reading more about our next destination, commercial flights simply do not operate into this airport.  While this airport may be used as an ETOPS (Extended Range Twin Engine Operations) emergency landing site (this will explain our flight for Leg 9), non-military/government flights do not operate here.  But more about this later in the article.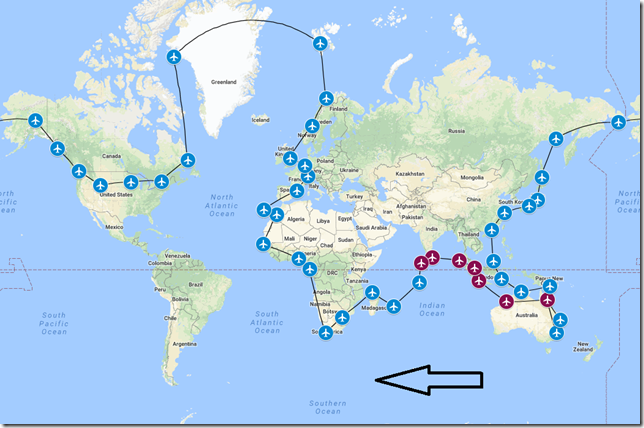 History of City
Diego Garcia is an atoll just south of the equator in the central Indian Ocean and the largest of 60 small islands comprising the Chagos Archipelago. Settled by the French in the 1790's and was transferred to British rule after the Napoleonic wars. Diego Garcia was initially one of the dependencies of the British Colony of Mauritius until it was detached in the newly created British Indian Ocean Territory (BIOT) in 1965.
Between the years 1968 and 1973, the native population was forcibly removed by the United Kingdom and the United States to establish an American military base. As of March 2015, Diego Garcia is the only inhabited island of the BIOT, the population is composed of military personal and supporting contractor agencies.
History of Country
The British Indian Ocean Territory (BIOT) is a British overseas territory of the United Kingdom situated in the Indian Ocean halfway between Tanzania and Indonesia. The territory consists of seven atolls of the Chagos Archipelago with over 1000 individual islands amounting to a land area of just 23 sq. miles.
History of Airport
The airport located on the island of Diego Garcia is under the operation/control of both the governments of the United Kingdom and the United States. While no commercial airlines operate into or out of Diego Garcia, the airport may be identified as an ETOPS (Extended Range Twin Engine Operations) emergency landing site or an en route alternate for flight planning purposes for commercial airliners. ETOPS allows for twin engine commercial aircraft (Airbus A330, Boeing 767, Boeing 777 or Boeing 787) to make theoretical nonstop flights between city pairs such as Perth to Dubai, Hong Kong to Johannesburg all while maintaining a suitable diversion airport within 180 minutes of flying time with one engine being inoperable. The airport also served as one of 33 emergency landing sites for the NASA Space Shuttle program.
Many conspiracy theorists suggest that Malaysia Airlines Flight 370 which disappeared on March 8, 2014 after departing from Kuala Lumpur for Beijing was flown to Diego Garcia.
History of Airline
If you've been to Las Vegas, you may have seen several white Boeing 737-600's with a red stripe flying into or out of McCarran International Airport. These US Government operated aircraft, shuttle employees from Las Vegas out to the Nevada National Security Site (Area 51) and to the Tonopah Test Range Airport (KTNX) also known as Area 52. The airline name JANET, is derived from Just Another Non-Existent Terminal or Joint Air Network Employee Transportation. Janet flights operate under the ICAO airline code of WWW and flights can often be tracked on websites such as FlightAware.
Flight Briefing
WWW1066
VRMM – FJDG
Planned Fuel – 22,000 lbs
Planned Altitude – 36,000
Distance – 690nm
Flight Time – 2hrs
Route: A4D ATISA R329 MOMMA DCT NKW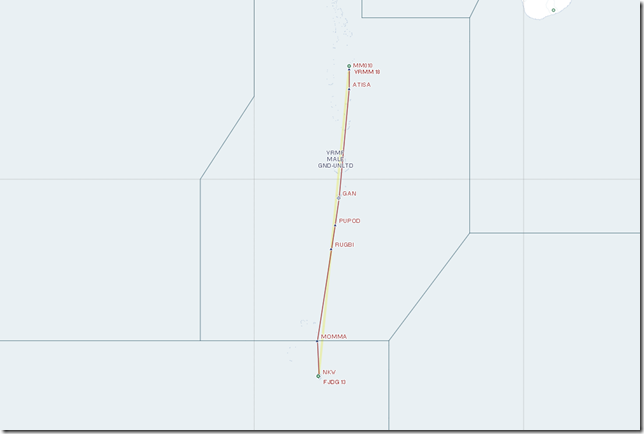 Flight Journal
Until just before departure, our travelers believed we were flying direct to Plaisance, Mauritius.  However, we have an incredible opportunity to spend a few hours touring Diego Garcia.  One of our travelers, knows someone who knows someone else connected with the island and assisted in arranging for this brief stop and tour.  And just to add a little touch of mystery to the day, we're flying one of the Boeing 737-600 JANET airlines which the US Government needed shuttled out to the island.  NOTE:  The JANET airlines aircraft do not operate in this part of the world, but just to mix things up this is the story I'm going with.  Enjoy.
Our passengers have boarded and we're all buttoned up and ready for push-back.  We've been instructed to tanker out additional fuel in the slight chance we're unable to land at Diego Garcia.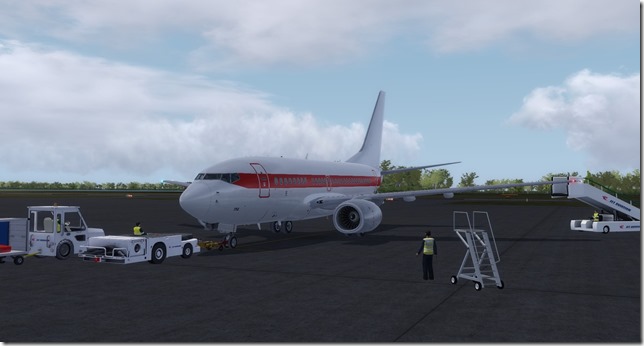 Making the turn to line up and wait for departure on runway 18.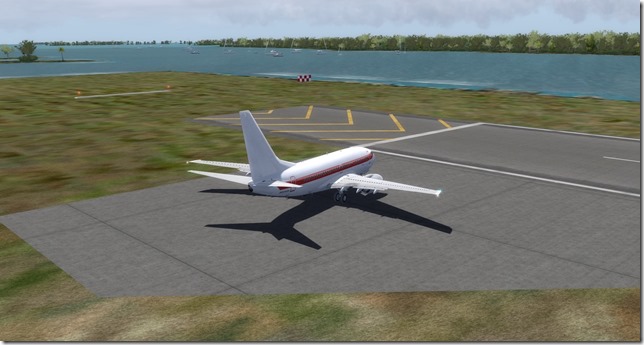 Positive rate, gear up.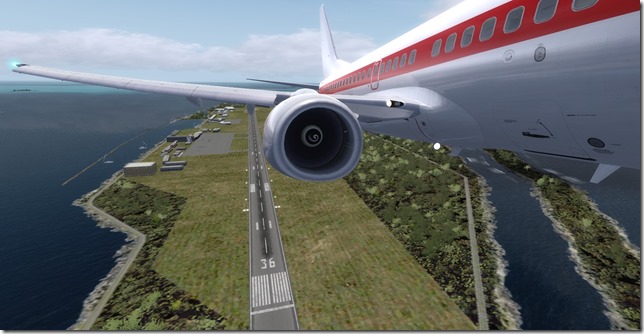 A wing shot as we climb to our cruising altitude of 36,000.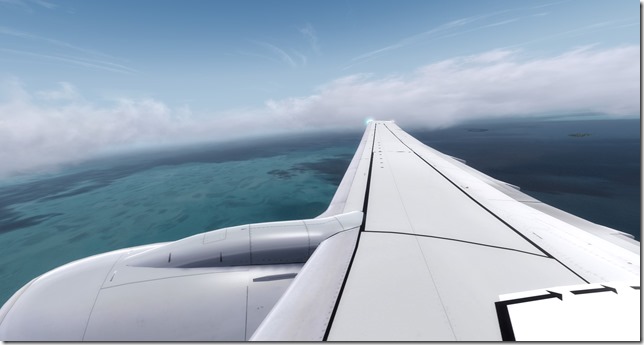 Just making the announcement about our brief stop-over.  I can hear the clapping and excitement of our lucky travelers from the flight deck.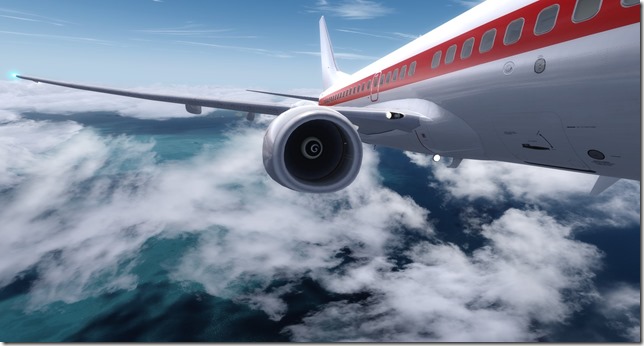 The JANET airlines livery on the PMDG Boeing 737-600.  Just a reminder, JANET airlines do not operate in this part of the world that I'm aware of.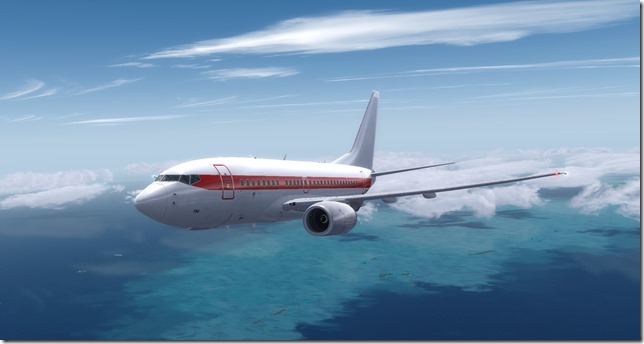 The island of Diego Garcia just off the starboard side.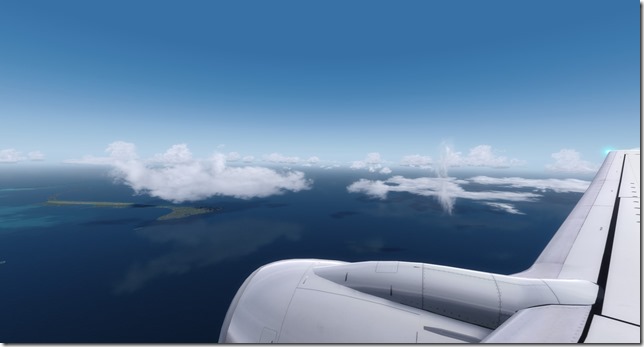 The water looks amazing.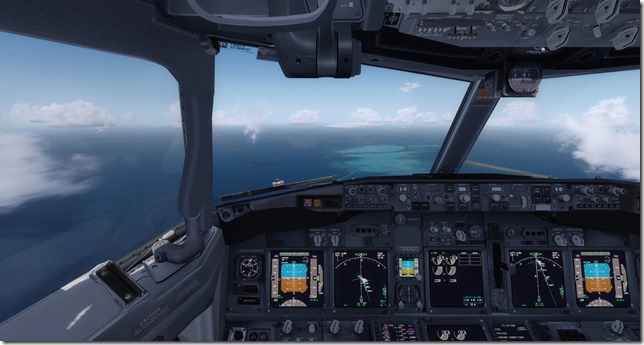 Our island runway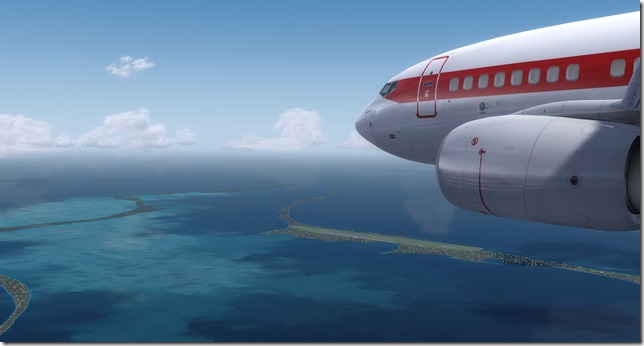 Making our turn to join the visual approach for runway 31.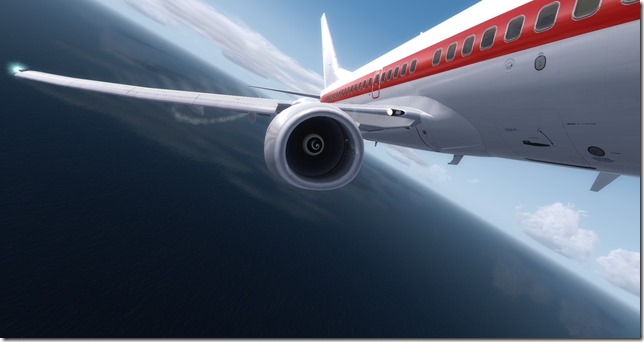 Interesting island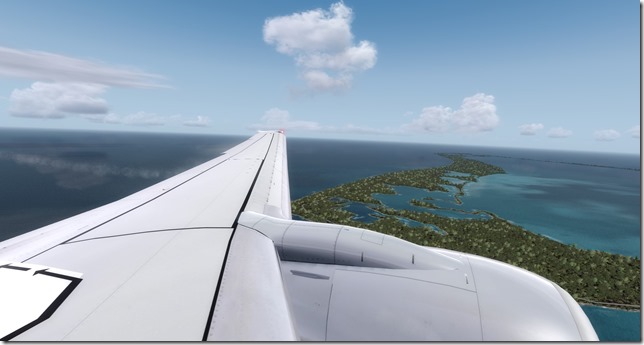 We'll be on the ground shortly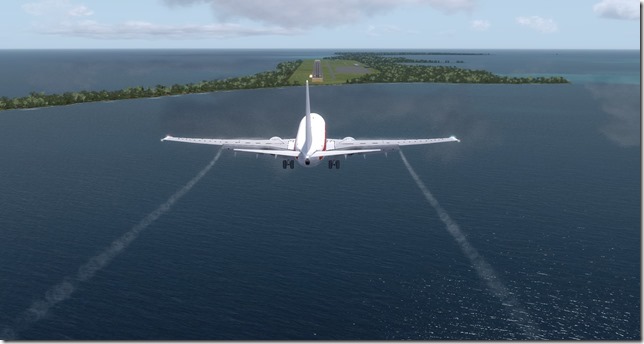 Short final into Diego Garcia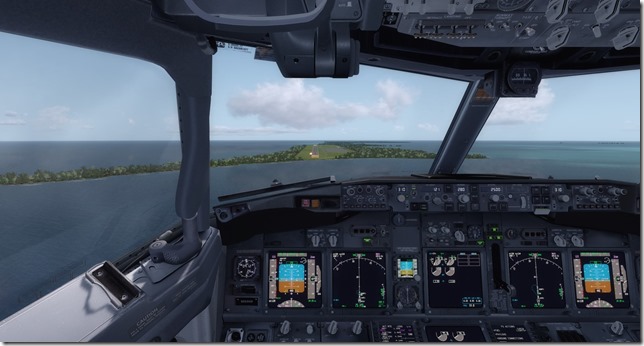 Photography is strictly prohibited on Diego Garcia.  The US DOD will provide the exterior photos to document our brief stay on the island.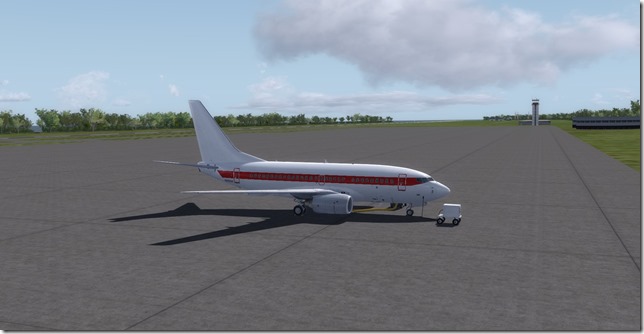 Simulator Specifics
Prepar3d v4.2
ActiveSky Weather Engine
ActiveSky Cloud Art
Envtex & Envshade
PMDG 737-600 Expansion (Janet Airlines livery)
Orbx Global Texture
VATSIM
Route Planning Tools
AivlaSoft PFPX
Navigraph Charts Desktop
FlightAware
FlightRadar24
SkyVector
Google Maps
Our stay on Diego Garcia will be short.  In approx. 3 hours we'll depart in a retired Air Seychelles Boeing 737 for Mauritius where our travelers will spend a few days exploring and doing all the things tourists tend to do.
Until next time…Happy Flying!
Jerry