Last week after having spent approx. 5 hours playing Bus Simulator 16 and 2 frustrating hours trying to setup my Logitech G27, I wrote the following blog article to provide my overall feedback of the game.  Since Friday, I have accumulated another 8+ hours which brings me to almost 14 hours of game play in Bus Simulator 16.  Despite the challenges, I've managed to rank up in the game and currently I'm at level 19 and working on the Heavy Metal Objective.  (see image below)  Along with reaching Level 19 status and successfully completing the first two tasks, I have €274,801 in the bank, I own five busses (including one SAS Bendy Bus) and employ 5 wonderful drivers.  I average approx. €23,000 per week on this current route setup.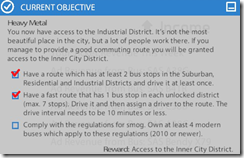 Of course, to accomplish the third task I will need to have a total of 4 modern buses (2010 or newer).  My bus fleet (at the moment) consists of the following:
2 – SAS A38G 2005 (41 Seats, no auto ramp, no bendy bus, cost new 89,900)
1 – SAS B41R 2008 (34 Seats, no auto ramp, no bendy bus, cost new 109,900)
1 – SAS C58B 2012 (40 Seats, yes auto ramp, no bendy bus, cost new 150,000)
1 – SAS Bendy X79 2014 (62 Seats, yes auto ramp, yes bendy bus, cost new 270,000)
What to do?  I am 50% away from accomplishing this third task.  The entrepreneurial aspect of the game is something I really enjoy.  The way I see it, I have two options:
Option 1 – Sell and Replace
With the on-hand cash I have (274K), I only need to clear €26,000 from the sell of the two SAS A38G 2005 models to then purchase two new C58B (2012 models) at €150,000 each.  In theory, this should keep my weekly earnings in the €23,000 range and it wouldn't take long to build up my cash reserves for whatever the future challenges might require.
Option 2 – Buy and Grow
My gut tells me to always keep the needle pointing towards growth.  While option 1 will quickly satisfy the objective and earn me access to the Inner City District, I won't really have the financial resources to grow into that new route immediately.  Plus I really haven't established myself in the industrial district.  I see option two as the conservative approach and allows me to immediately purchase one new C58B (2012), hire a new driver and establish a new route.  This action should increase my weekly average above the €23,000 I'm earning now.   Then after 1-2 weeks, I should have earned enough to purchase a second C58B (2012), hire another driver and establish yet another route.  This would give me a total of seven buses, seven drivers and complete the current objective.
I suppose there is a third option.  It would somewhat resemble option two, but it would be purchasing the smaller MAN bus which I believe has a price tag of €300,000 (I'm not near my game PC while I write this).  But here's the deal with this option.  Is there truly a valid reason to purchase the MAN over the SAS equivalent?  Does the MAN bus offer features/benefits that differ from the SAS in terms of my personal driving experience?  In other words, if the drive dynamics are the same (I believe they are)…then I'm really not bothered by staying with the SAS.  Being an American, living in America…I have no brand loyalty towards MAN.  If Gillig were an option, then perhaps it would be a different story.
So to wrap this up, I believe I will follow the conservative approach to growing the company and at the same time purchase the newer SAS C58B bus models to eventually complete the third task and fully complete this current objective.
Finally, I stand behind all the points I made about the things I disliked about Bus Simulator 16 last week.  Please take a few minutes to read that post if you haven't already.  HOWEVER, I'm truly impressed at the level of dedication the development team are making in helping to answer questions (many the same ones over and over and over again) and what I believe is their overall commitment to the games success.  Yes, I will be disappointed if we don't see a game update or patch in the coming days to address some issues.  For example, I truly believe the SatNav map issue must have been an oversight on the part of the dev and testing team.  So I would expect this to be something they take seriously and fix very soon.
In closing, I will continue to play and stream Bus Simulator 16 (along with all my other simulation game interests) and continue to document my progress here.  Likewise, I'll most certainly update my readers on the overall progress made by the dev teams through game updates/patches in the coming weeks.  We must accept the fact that some things will take time to fix and implement.  As long as Stillalive and Astragon continue to "move the chains", I will be one of their biggest cheerleaders on the sidelines.
Until next time…
Happy Simming!!!
J